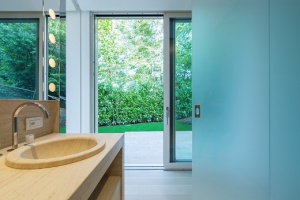 Many homeowners want to update their bathroom but aren't too thrilled about the cost associated with it many times. Instead of putting off your bathroom renovation, you can utilize these cost-cutting tips to help keep your budget manageable. To help you affordably update your bathroom in Tulsa, follow this "Guide to Affordable Bathroom Remodeling".
.

Create a Plan
Like with any other home remodeling project, it is important plan ahead to determine what you want to get out of your bathroom remodel and determine a budget that can get you there. Often times, homeowners will find that they don't need to complete the bathroom renovation all at once and can take time to spread your budget out efficiently. Once this budget has been determined you are ready to get started!
Ways to Cut Costs
Affordable bathroom remodeling requires finding the best ways to cut unnecessary costs whether through materials used, room placement decisions and fixture choices. With the wide variety of products available, there too is a wide spectrum of prices. Here are some of the ways you can cut costs during your Tulsa bathroom renovation:
Wall Tile Alternatives – While adding subway tile to your bathroom walls can result in a great look, there are many other materials that you may want to consider. Look into cheaper tile options or moisture resistant beadboard to get clean, affordable finished look.
Keep Plumbing Intact – Many times, homeowners want to rearrange the plumbing in their bathroom to change the placement of their fixtures. This can lead to exorbitant costs as the pipes have to be rerouted and the walls have to be reconstructed. Instead plan around the existing fixtures to increase space.
Focus On Fixture Improvements – Instead of completely replacing your toilet, you may be able to drastically improve its appearance may be drastically improved with nothing more than a new lid and seat. Focusing on small updates instead of starting over can help keep your bathroom remodel affordable.
Utilizing Paint – A fresh coat of paint has long been an easy way to improve any room in the house. When paired with improved lighting, a new splash of color can instantly and affordably transform a bathroom. Focus on paints that can stand up to heavy moisture that may be created by hot showers.
Call Timco Construction for Bathroom Remodeling in Tulsa?
If you are in need of a remodeling contractor, Timco Construction is ready to turn your vision into a reality. Whether it's a kitchen, bathroom or additional room, Timco Construction has the tools and experience to complete your remodeling job. Give us a call at 918-779-7330 for immediate service and pricing today!