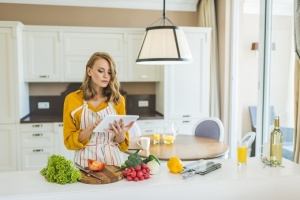 The kitchen is often the most utilized room inside of a home and if you are unhappy with the current state of yours it can be disheartening. Fortunately, no matter what size your kitchen is, or the size of the budget you have to work with, there are many ways you can improve the look of your kitchen. Try these kitchen updates to breathe new life into them on a budget.

Update Hardware
One of the most cost-effective ways to enhance the appearance of your kitchen is by updating the hardware on your cabinetry. Cabinet hardware comes in a wide variety of colors, shapes and sizes to meet your personal design preferences. If you are interested in the current trends, seek out vintage glass, copper or pewter hardware. To ensure your new hardware will fit properly, take existing hardware pieces when shopping to compare.
Utilize Paint
Adding a fresh coat of paint to your walls or existing cabinets is an easy way to affordably transform your kitchen. For the cost of a couple gallons of paint and the time it takes to apply it, you can have an exciting, new look for your kitchen walls or cabinetry. Whether you want a neutral color that will stand the test of time or decide to make a statement with a color that pops, the decision is yours!
Add Accents and Decorations
In many cases, the appearance of a kitchen can be altered drastically through the use of accent pieces or decorations. The easiest way to achieve this is to determine a general theme that you would like to go for, then find pieces that lend to that theme and create a cohesive finished look. The theme you choose is entirely your decision and should reflect your personal tastes and preferences.
Why TimCo Construction for Kitchen Renovations?
If you are in need of a new flooring for your kitchen or bathroom, TimCo Construction would love to explain our excellent flooring options in greater detail. To find out more about our flooring options, contact us, or give us a call at 918-779-7330.