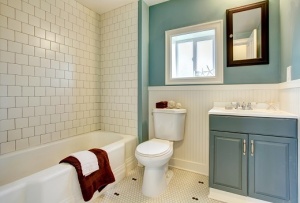 So, you've finally decided on the perfect countertops, cabinets and flooring to update your bathroom and remove the dated fixtures for more modern replacements. TimCo Construction is here to help you every step of the way and make sure your Tulsa bathroom remodel goes according to plan. Here are the steps you can expect during your bathroom renovation:
Demolition Phase
Depending on the scope of your bathroom upgrades, demolition may first have to be conducted before the renovation can take place. For demolition to take place, all personal belongings will have to be removed from cabinetry or other storage areas. Once the walls are opened, some damage may be found that will need to be addressed before the process can continue.
Plumbing Phase
If you are changing out your bathtub or toilet, additional plumbing may be needed to ensure the right fit. During the plumbing phase, your existing plumbing will be checked or corrected to ensure it is up to code and no leaks or other problems will arise in the future after installation. A new bathtub or shower must be installed prior to the installation of drywall.
Drywall Phase
Once your new shower or bathtub has been installed, drywall can then be installed, plastered and sanded. TimCo Construction is the leading drywall contractor in Tulsa and works to get the job done quickly and correctly. After the drywall has been installed, it can be painted before the bathroom remodel continues.
Cabinet Installation Phase
Once the walls have dried from the previous painting, you are now ready to install your bathroom cabinets. This includes both hanging cabinets and floor cabinets, which must be installed before countertops can be added. In some cases, our crew may need to touch up the paint on your drywall if any is disrupted during the installation process.
Countertops & Flooring
Now that the basic fixtures are in place, the installation of countertops and flooring can be done to complete your project. TimCo Construction installs a wide variety of countertops and flooring options to make sure your bathroom is perfect after installation is complete. Once the countertops and flooring are completed, any finishing touches and clean-up will complete the process.
Why Timco Construction for Bathroom Renovations in Tulsa?
If you are in need of a remodeling contractor, Timco Construction is ready to turn your vision into a reality. Whether it's a kitchen, bathroom or additional room, Timco Construction has the tools and experience to complete your remodeling job. Give us a call at 918-779-7330 for immediate service and pricing today!