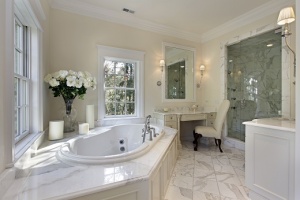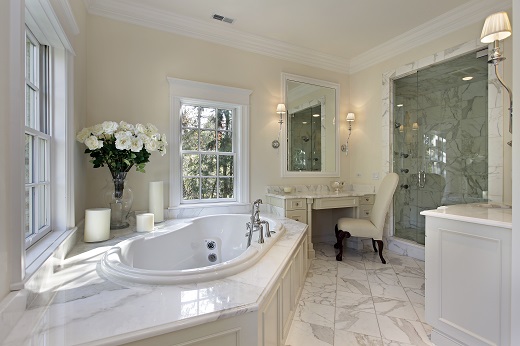 For most homeowners, the bathroom becomes a relaxing retreat where they can soak away the stress of the day in a warm bath. For this reason, Tulsa bathroom remodels that focus on enhancing your relaxation have become incredibly popular for many homeowners. Here are some of the components of a bathroom remodel that can enhance your relaxation:

Updated Bathtub
To invest in the ultimate relaxation, many homeowners have opted to update their master bathroom tub into a jetted spa. This unique feature is sure to make your bathroom your favorite room in the entire house after a long day. By adding aromatherapy to your spa session, you will be on your way to rest and relaxation in no time!
Upgraded Lighting
It's no secret that harsh lighting can make it difficult to relax. Instead, many homeowners have invested in recessed or track lighting that provides different dimmer settings to provide a more relaxing ambiance in their bathroom. The skilled contractors at TimCo Construction can help develop a new lighting plan that can help improve your relaxation.
Improved Storage
If your bathroom is cluttered, you likely won't find it to be the most relaxing room in your home. However, by working with the contractors at Timco Construction for your bathroom remodels, you will be able to effectively utilize the space to decrease clutter. We can create a new room plan that includes effective storage solutions and updated placement of your fixtures for optimal space usage.
Modern Technology
Investing in modern, water saving toilets can help give you peace of mind to know that you are conserving water effectively and decreasing your utility bills. There are a wide variety of smart home products that can ensure the best experience possible when utilizing your bathroom. Whether you need room for new devices or want to modernize your bathroom, TimCo Construction can help!
Call Timco Construction for Tulsa Bathroom Remodels?
If you are in need of a remodeling contractor, Timco Construction is ready to turn your vision into a reality. Whether it's a kitchen, bathroom or additional room, Timco Construction has the tools and experience to complete your remodeling job. Give us a call at 918-779-7330 for immediate service and pricing today!