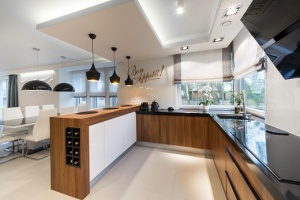 So, you are finally fed up with the appearance and functionality of your kitchen and are ready to make a change. Congratulations, you are not alone! For homeowners that are ready to make a change and start planning their project, here are some of the possibilities that are available with a  kitchen remodel in Tulsa:
Flooring Options
There are many different durable flooring options available to enhance your kitchen and improve its aesthetic appeal. When you partner with TimCo Construction, you will have access to a wide variety of flooring options from wood to tile and anything in between. As one of the top Tulsa flooring installers, we have the experience and tools needed to quickly and accurately complete your flooring projects.
Countertop Options
One of the most requested projects during a kitchen remodel in Tulsa is the installation of new countertops. In many older homes, the surface area that countertops covers can make dated materials an eyesore. If you are interested in installing new countertops in your kitchen, the experts at TimCo Construction can help install Formica countertops, LG Hi-Macs Countertops or Wilsonart Countertops to create a modern look.
Cabinet Options
At TimCo Construction, we know that many homeowners are disappointed with the layout of their kitchen and the amount of storage space they have available. As a Waypoint Living Spaces® dealer, we are able to provide custom cabinet designs to our clients that are made of the highest-quality materials available. This ensures that your cabinets will last for years to come while providing the potential for increased storage space.
Drywall and Painting
Depending on how old your kitchen is and how well it has been maintained. Portions of your wall may need to be patched with the help of TimCo Constructions leading drywall contractors in Tulsa. Once this has been completed, we can assist in applying a brand new coat of paint to the walls to help enhance your kitchen.
Why Timco Construction for Kitchen Remodeling in Tulsa?
If you are in need of a remodeling contractor, Timco Construction is ready to turn your vision into a reality. Whether it's a kitchen, bathroom or additional room, Timco Construction has the tools and experience to complete your remodeling job. Give us a call at 918-779-7330 for immediate service and pricing today!