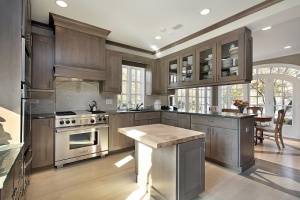 If you are like most Tulsa homeowners, your kitchen is likely the most used room in your home. As the central hub for a family get together and a vital source of daily food preparation, your kitchen is arguably also one of the most important rooms in your entire home. To get the most out of this room, you may be wondering how kitchen remodeling in your Tulsa home can help. Here are some of the benefits of kitchen remodeling in Tulsa with Timco:
Increased Home Values
When looking at the return investment on kitchen remodeling, you will likely find that, in general, it will top the list on ways to increase your home value. According to a Cost vs. Value report from Remodeling Magazine, small kitchen projects earn a return on investment of more than 83%, making it a priority for most homeowners. Having a modern kitchen with updated style, countertops, hardware and appliances is one of the easiest ways to make your home more attractive to potential buyers.
Improved Kitchen Storage
There is nothing more frustrating than rummaging through your cabinets to find the pan you need to cook dinner. Even worse, having to remove the pots and pans that are in the way to get to the one you actually need. If this sounds like a familiar situation, you likely would benefit from the kitchen remodeling services Timco offers Tulsa residents. We can help determine the best layout of new cabinetry to provide superior storage solutions for your kitchen.
Modern Style
If you live in an older home, you likely dread walking into your dated kitchen to prepare a meal or grab a snack. One of the easiest ways to make your kitchen your favorite room is to replace the existing cabinetry or invest in new countertops. Kitchen remodeling doesn't always have to be about functionality, it can rely solely on individual preferences.
Why Timco Construction for Kitchen Remodeling in Tulsa?
If you are interested in remodeling your kitchen or are confused by the requirements, the experts at Timco Construction would love to help you. We can help determine the best layout for your kitchen as well as provide a quote for your needs. Give us a call at 918-779-7330 for immediate service and pricing today or send us a message!