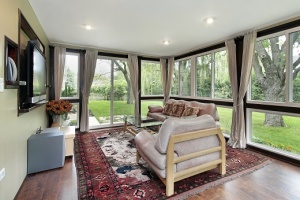 With the arrival of summer, you may be weighing the pros and cons of investing in a sunroom addition for your home. A sunroom is most often a glass enclosed room on a concrete or wood foundation that is attached to your home, affordably increasing the usable space. Here are some of the benefits that can be achieved by adding a sunroom addition to your home:
Enjoy the Outdoors – Sunrooms are a great way to enjoy the beauty outside no matter what the temperature or current weather is. Whether you need a break from the heat now or want to watch the snow in the colder months comfortably, there is no easier way to do it than with a sunroom. In many cases, this room can also be connected to your existing HVAC system!
Stress Reduction – Fresh air and sunshine have long been utilized as a source of stress relief. By fusing the outdoors with a functional enclosed space, you can have the best of both worlds as your problems melt away. This health benefit is a common reason for many to take the plunge and start renovations.
Add Functional Space – A sunroom can be used for a wide range of purposes. For instance, if you like to read you may utilize this space as a reading area. On the other hand, access to sunlight makes a sunroom addition perfect for many different flowers or plants. No matter what your intended use for the room is, it will likely have a place for it.
Enhanced Natural Lighting – If you are a fan of natural lighting you will love the warmth and light a sunroom provides directly from the sun during the day. This can help cut expensive electric costs associated with leaving artificial light sources on throughout the day. The natural light and warmth also further enhances the appeal of utilizing this room for your daily activities.
Why Timco Construction for Sunroom Additions?
If you are ready to invest in a sunroom for your home or have questions about the process, the experts at Timco Construction are here to help. Our experienced and certified contractors have the tools an experience necessary to make your project a success. Give us a call at 918-779-7330 for immediate service and pricing today or send us a message!