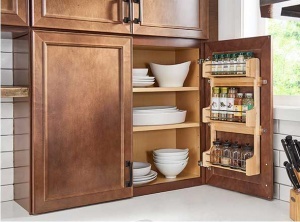 Investing in high-quality cabinetry that is built to last is one of the easiest ways to enhance your kitchen. Whether you are looking for a better storage solution to avoid digging through your pots and pans to find the one you need or just want a more modern look to your kitchen, TimCo Construction is here to help. As a Waypoint Living Spaces® Cabinets dealer, we have access to a wide variety of cabinet materials, hardware and organization solutions.

The Benefits of Waypoint Living Spaces® Cabinets
The beauty and versatility of our cabinets make them the perfect solution for both kitchen remodeling and bathroom remodeling. The experts at TimCo are committed to providing the best cabinetry solutions available to meet or exceed standards that have been set by the Kitchen Cabinet Manufacturers Association and American National Standards Institute. Here are some of the benefits of using Waypoint Living Spaces® Cabinets in your next remodeling project
High-Quality Cabinetry
Waypoint Living Spaces® Cabinets utilize the best quality materials available to their American factory. By kiln drying the face frames, you can be sure that your hardwood will never warp. Each cabinet that is installed by TimCo Construction is pressure-fitted, glued, stapled and double-doweled to ensure continued integrity for years to come.
Environmentally Friendly Manufacturing
To ensure environmental protection standards are maintained, the Waypoint Living Spaces® factory has worked hard to obtain certifications for air quality, product resource management, process resource management and environmental stewardship with each cabinet that is manufactured. This focus ensures that sustainable forestry practices and decreased waste and emissions are a top priority. You can rest easy knowing that your cabinets are made with as little of an environmental impact as possible.
Extensive Material Options
Your perfect kitchen cabinetry likely won't match that of your neighbors. For this reason, having the ability to choose from a wide variety of materials and finishes is important for many homeowners that are looking to enhance their kitchen. With a wide variety of options, including cherry wood, maple wood, hickory wood and more, we are sure to have the perfect cabinet material to meet your unique design needs.
Why TimCo Construction for Kitchen Cabinets?
If you are in need of a new cabinetry system for your kitchen or bathroom, Timco Construction would love to explain our custom cabinet options in greater detail. To find out more about our cabinet options, contact us, or give us a call at 918-779-7330.