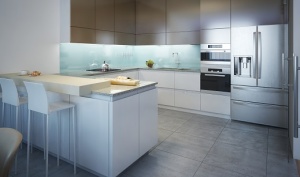 If you are like most American households, your kitchen is likely one of the most traveled rooms in your home. Unfortunately, this means that over time the wear and tear of constant foot traffic can deteriorate what were once beautiful new floors. Take a look at your current kitchen flooring and look at these factors to determine if you are ready for an upgrade.

Modernizing Dated Flooring
Walking into your kitchen only to be greeted by dated linoleum that looks like it came from an 80's hospital, you likely will want to look into newer, modern flooring types. For many, the secret to a beautiful kitchen lies in the installation of tile flooring, such as stone or ceramic. Not only does this provide an easily cleaned surface, it is sure to last for years to come and remain durable under the wear and tear of even the heaviest foot traffic.

Replacing Damaged Flooring
Not only is damaged flooring unattractive, it is potentially dangerous. When your kitchen flooring has chips or cracks, it can create an uneven surface that can quickly become a trip hazard. To ensure the safety of your family and any other visitors, it is important to replace any damaged flooring, whether you spot replace it with similar flooring or completely replace it with a new material.

Increased Home Value
Thinking of selling your home now or in the future? Upgrading the flooring in your kitchen is one of the quickest ways to add immediate value to your home. In fact, an updated kitchen is one of the most common requests for individuals or families that are looking for a new home. If you are interested in upgrading your kitchen flooring, the experts at TimCo Construction are here to help!

Why TimCo Construction for Kitchen Flooring?
If you are in need of a new flooring for your kitchen or bathroom, TimCo Construction would love to explain our excellent flooring options in greater detail. To find out more about our flooring options, contact us, or give us a call at 918-779-7330.