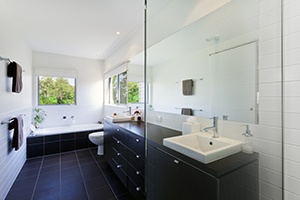 Bathroom floors receive a ton of traffic and are susceptible to moisture at all times. Finding the perfect flooring option for a bathroom doesn't have to be a hard process. With so many options available, determining what bathroom flooring option will best work for your home has never been more personalized.
Certain flooring types can automatically be ruled out, such as carpet and hardwood. Carpet within a bathroom setting is nearly impossible to keep clean or dry. Solid wood also isn't suggested because excess moisture can warp and crack the flooring. So what options are best?
Concrete
Sealed concrete is durable and impervious to water damage. You may be imagining your bathroom floor resembling your garage. With recent advancements, concrete is available in a variety of colors and tints to give the durability you expect outside, with the style your interior deserves.
Ceramic and Stone Tile
Ceramic or stone tiles are often used within a shower to create a backsplash. Because this material is easily cleaned and resists water, using it as a bathroom flooring option in the bathroom only makes sense. Grout is used to seal the seams of tile from moisture, though some tile can be made to repel water.
Vinyl Tile
Vinyl tile is simple to install and is composed of waterproof plastic making it durable in a high-moisture environment. However, the seams between vinyl tile are not generally protected from moisture, meaning potential problems may arise. Keep this in mind when looking into vinyl tiling for your bathroom flooring!
If you are in need of a remodeling contractor, Timco Construction is ready to turn your vision into a reality. Whether it's a kitchen, bathroom or additional room, Timco Construction has the tools and experience to complete your remodeling job. Give us a call at 918-779-7330 for immediate service and pricing today!