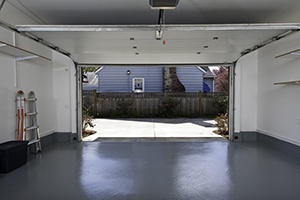 Many homes within the Tulsa area come equipped with a built-in garage that often connects to the home. Given the available frame, this space is often utilized for room additions without drastically changing the structure of the home. Assessing the current setup can help determine the cost of a garage conversion.
Flooring
Garage flooring is almost always a bare concrete slab. In some cases, the floor may be sloped for drainage purposes. In order to make the space usable, and avoid water damage, the concrete floor may have to be leveled during the garage conversion, which can add extra costs to the project.
Garage Door
A garage door can take up as much as one-third of the visible space of a home. For this reason, the area will need to be replaced to match the existing exterior of the home. Often, homeowners will opt to frame a new wall in place of the garage door and install windowing.
Air Conditioning
In some homes, the existing heating and air system will extend to the garage already. However, this is often not the case. In order to make the new space more accommodating, the existing system needs to be routed to the new room or standalone systems must be used.
Parking and Storage Loss
With the implementation of a garage conversion, parking spaces and storage that were previously utilized will be lost. This means that your vehicle will no longer be protected by the elements and previously stored items must be moved or sold. Take this into account before deciding on a garage conversion!
If you need a remodeling contractor, Timco Construction is ready to turn your vision into a reality. Whether it's a kitchen, bathroom or additional room, Timco Construction has the tools and experience to complete your remodeling job. Give us a call at 918-779-7330 for immediate service and pricing today!