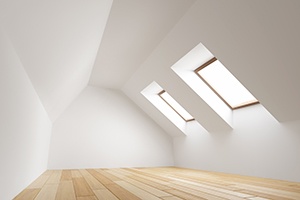 When looking for ways to add space to a home, homeowners often forget about the potential space that can be utilized within an attic. Nearly every home has usable space within their attic once the junk that is stored within it is removed. With a little planning and attention to detail, attic conversions can add real value to a home and the occupants that reside inside it.
Head height is one of the most important factors in determining whether or not an attic can be converted into a usable living space. In most cases, the height of the area should be equal to or greater than at least 7 feet. This will ensure that the completed space can be utilized to its full potential without discomfort.
Any items that may take away space and cannot be moved, such as chimney stacks and utility dependent objects, will also cause problems when planning attic conversions. These items can't be moved in most cases and if they can, will be very costly. If you have a way to safely work around them, the attic conversion may still be possible.
The basic steps for attic conversions include reinforcing the floor, adding insulation, establishing fire safety compliance measures and routing electric and heating to the new space. Once these have been completed, painting and other design implements can be added. In some cases, a staircase may need to be added to create an adequate entry method.
The cost of an attic conversion can vary widely depending on the size of the space and the amount of work that must be done to complete the job. Expensive factors, such as raising the roof, can make the conversion seem less than optimal. However, the prospect of creating a spare room within an attic space can be much more affordable than a home addition.
If you are in need of a remodeling contractor, Timco Construction is ready to turn your vision into a reality. Whether it's a kitchen, bathroom or additional room, Timco Construction has the tools and experience to complete your remodeling job. Give us a call at 918-779-7330 for immediate service and pricing today!