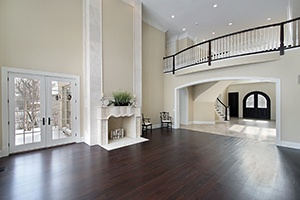 Hardwood flooring is one the most requested items for potential home buyers or renters. Statistics have shown that nearly 54% of all potential home buyers are willing to pay more for a home in order to have hardwood flooring. The return on investment obtained from this flooring choice will be determinate on the market the home is in and the buyers that looking in that area, but hardwood flooring always helps sell a home faster.
Hardwood floors are durable and built to last as long as the home the inhabit. With proper care, hardwood floors can last for centuries. Wood's unique properties making cleaning it a simple process. With the occasional sweep or vacuum, the floor can look as good as new. If more drastic measures are needed, wood floor cleaner can easily be applied.
As previously stated, wood can make selling a home much easier and faster. Potential buyers will pay high amounts for a home with a natural wood floor that has been properly cared for. Hardwood flooring adds inherent value that carpet doesn't. That's why hardwood is always considered and upgrade!
Whether a home is modern or traditional, hardwood floors can enhance the aesthetic properties. With the wide variety of wood types available, floors can be sanded and stained to match any preference the homeowner may have. With the ease of staining the floors again, the floor retains customization options that may change with the homeowner's preferences.
For the look of wood without breaking the bank, laminate flooring options can give a unique look akin to real hardwood. Though the durability and appeal of wood is greater than that of laminate flooring, laminate is still considered an upgrade from standard carpeting. Laminate is much easier to maintain and doesn't require the same maintenance as hardwood floors.
If you are in need of a remodeling contractor, Timco Construction is ready to turn your vision into a reality. Whether it's a kitchen, bathroom or additional room, Timco Construction has the tools and experience to complete your remodeling job. Give us a call at 918-779-7330 for immediate service and pricing today!