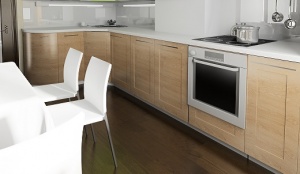 A kitchen remodel is one of the most requested home improvement projects nationwide. Whether dated cabinetry and cracked countertops are causing an eyesore or impractical storage solutions are causing clutter, there are many reasons that homeowners want to remodel their kitchens. However, when is it truly time to remodel your kitchen?
The timing of a kitchen remodel is generally considered the homeowner's choice, unless a health hazard or safety hazard is present. Though many different views of when you should remodel your kitchen exist, there are a few common signs that can help expedite the decision. Here are some of the things you should look for.
Space Constraints
One of the most popular reasons for a kitchen remodel is a lack of available storage or countertop space. It is possible that the current layout of your kitchen could be improved to provide more usable space for both of these issues. By working with a professional, you can create a layout plan that accommodates your storage or preparation space needs.
Dated Fixtures or Appliances
If you live in an older home, chances are you aren't very pleased with the state or appearance of your countertops, cabinets, flooring or appliances. The kitchen should be the home's hub for any gatherings because of a number of time homeowners will spend in that room on average throughout their life. With the importance of this room, doesn't it make sense to make it functional and aesthetically pleasing? By working with a professional, you can have a kitchen you love being in.
Disability Access
If your home was visited by an individual with disabilities, would they be able to safely maneuver their way around your kitchen? Furthermore, is your kitchen laid out so you can safely utilize it when you get older?  If the answer to either of these questions is no, you may be due for a kitchen remodel. A professional can help remodel your kitchen to be as accommodating as possible.
Why Choose Timco Construction to Remodel Your Kitchen?
If you need a remodeling contractor, Timco Construction is ready to turn your vision into a reality. Whether it's a kitchen, bathroom or additional room, Timco Construction has the tools and experience to complete your remodeling job. Give us a call at 918-779-7330 for immediate service and pricing today!