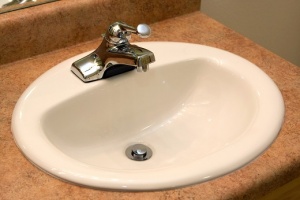 It can be disheartening to install the perfect Formica countertops during your Tulsa kitchen remodel only to find minor scratches or stains appearing over time with use. Fortunately, these countertops can often be repaired with a little time and effort with products found around the house or at your local hardware store. Here are some of the ways homeowners can begin repairing Formica countertops.

It is important to ensure the type of countertop you have before using any of these methods to avoid potential damages that may occur if improperly used. Homeowners that attempt these methods without utilizing the help of a professional are responsible for any problems that arise. Always research prior to performing DIY repairs.

Repairing Minor Scratches or Chips
One of the easiest ways to fix small scratches or chips in a Formica countertop is by using a laminate repair paste. It is important to choose a paste and a color-matched repair pen in the color that most closely matches your existing countertop for the best results. Use the following method for repairing Formica Countertops:
To begin, identify any defects in the Formica Countertop that you would like to correct. Once identified, fill the cracks or scratches with the laminate repair paste and ensure it is flush with the countertop. Once hardened, match the color of the laminate repair paste with color-matched repair pen and let dry completely before touching.
Removing Stains
Depending on the source of the stain, Formica countertops can often be returned to normal with the use of a home solution. To achieve the best results, most homeowners will create a paste from baking soda and water that can be applied over the stain. Use the following method for removing stains from your Formica countertops:
To begin, create a paste with a mixture of baking soda and water that can be applied to the site of the stain. Once mixed well, apply a layer of paste on top of the stain and allow it to sit for a couple of hours to penetrate the stain without rubbing it into the countertop. After this time has passed, gently remove the baking soda paste with a paper towel.
Why Timco Construction for Countertops in Tulsa?
If you are looking for countertops in Tulsa, Timco Construction is here to help. No matter what your kitchen remodel or bath remodel entails, we are sure to have the solution that works best for your individual needs. If you are ready to get started, please contact us or call us at (918) 779-7330 today!